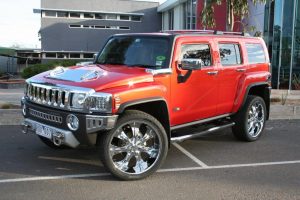 DR ROD Hot Rod Hire offers luxury vehicles that were considered the limousines of their era. The 1928 Ford Tourers, 1934 Ford Sedan and 1934 Chev Sedan and Tudor come with professional, courteous and friendly chauffeurs who become discretely involved and are always willing to help when those special moments require attention.
Now also available DR ROD Hummer Hire www.drrodhummerhire.com.au
Just as you take the time and effort to prepare for your special occasion DR ROD vehicles have been superbly restored and are maintained to the highest standards.
All vehicles are fitted with CB radios to ensure no one is ever late or lost.
The vehicles ensure you make an impacting arrival at your wedding, promising a day you'll never forget. The vehicles may be viewed by prior appointment at the company's showroom.
DR ROD is a member of the Special Vehicle Hire Association.
These cars are amazing. They look so good in our photos. The staff were very friendly and so easy to work with. Esp during photo time.
What can I say about these cars other than FANTASTIC. Service was great, drivers sensational, will be looking to book them again for sure.
Stunning cars great price great drivers great service by all the staff